Joint Event of ASME and the
MIT·Stanford·Berkeley Nano Forum
Integrated Nanosystems 2005
The Premier Nanotech Conference for the Bay Area in 2005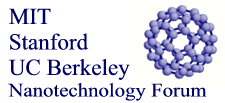 Date: Sep 14-16, 2005
Location: University of California, Berkeley
Event Program
FinalProgram.pdf
Event Description
We invite you to join us at the biggest nanotechnology conference in the Bay Area for 2005. The conference will showcase presentations and discussions by globally recognized leaders in nanotechnology research, investment, entrepreneurship and commercialization. This is the only conference that combines both scientific and business leaders in the field of nanotechnology.
We have put together a stellar program that highlights the latest and most exciting developments in the field of nanotechnology with a focus on applications. (A major new technological breakthrough in nanotechnology will also be presented at the conference!) Business leaders and investors will provide an inside perspective on what it takes to be successful in building nanotechnology companies. The conference will also feature the First NanoIgnite Business Plan Competition, where a panel of expert judges will provide feedback on a group of exciting startups that have been selected for their innovation and promise. The winner of the competition will walk away with a cash prize! The NanoIgnite participants are as follows:
This conference will be a unique opportunity for all attendees, whether they are researchers, entrepreneurs, investors or at established businesses, to meet with the top talent of nanotechnology. This is the conference to meet all the leading research, innovative and business minds in nanotechnology. As a researcher, investor, existing or budding entrepreneur or a business leader, you cannot afford to miss this conference!
The conference will feature plenary talks by globally recognized leaders:
David Soane founder of Soane Labs, Nanotex, Aclara Biosciences and ICBM.
Floyd Kvamme, Kleiner, Perkins, Caufield & Byers.
Prof Paul Alivisatos, UC Berkeley, Founding scientist of Nanosys & Quantum Dot.
The conference will present eminent speakers and panelists including:
Prof Rod Ruoff of Northwestern University - Nanomanufacturing
Prof Ray Baughman of the University of Texas at Dallas - Nanomanufacturing
Prof Masud Mansuripur of University of Arizona - Devices & Systems
Prof Karl F. Bohringer of University of Washington - Devices & Systems
Prof Kenny Breuer of Brown University - Nanoscale Phenomena
Prof Zhifeng Ren of Boston College - Nanoscale Phenomena
Tom Baruch, Managing General Partner, CMEA Ventures
David Aslin, General Partner, 3i
Erik Straser, General Partner, Mohr Davidow Ventures
Himanshu Choksi, Managing Director, Pacifica Fund
Mohanjit Jolly, Managing Director, Garage Technology Ventures
Wasiq Bokhari, Managing Partner, Quantum Insight
Mohan Misra, President & CEO, ITN Energy Systems, Inc.
Steve Bengston, Price Waterhouse Coopers
Nobi Kambe, Nanogram Corporation
The 14th and 16th of September are technical track days for the conference, where the latest developments and their application potentials will be discussed. To present please submit your two-page extended abstract in the categories of Devices and Systems; Nanoscale Phenomena; Nanomanufacturing; and General Topics at the conference website.
The 15th of September will feature business focused talks, panels and the first NanoIgnite Business Plan Competition. To enter your company, please send a two-page business plan summary.
You can attend the Nano Commercialization Showcase for one-day or register for the entire three-day conference. The registration fee includes a copy of the peer-reviewed conference materials, lunches and evening receptions on Wednesday, September 14 and Thursday, September 15.
This is the best nanotechnology program of the year that integrates technology with business. Please join us to learn from the experts and to meet with the leaders of the field. Meet and network with the best in the nanotechnology community to achieve your goals!
For more details please visit the conference website.